Welcome to our Food Truck
with authentic Mexican flavor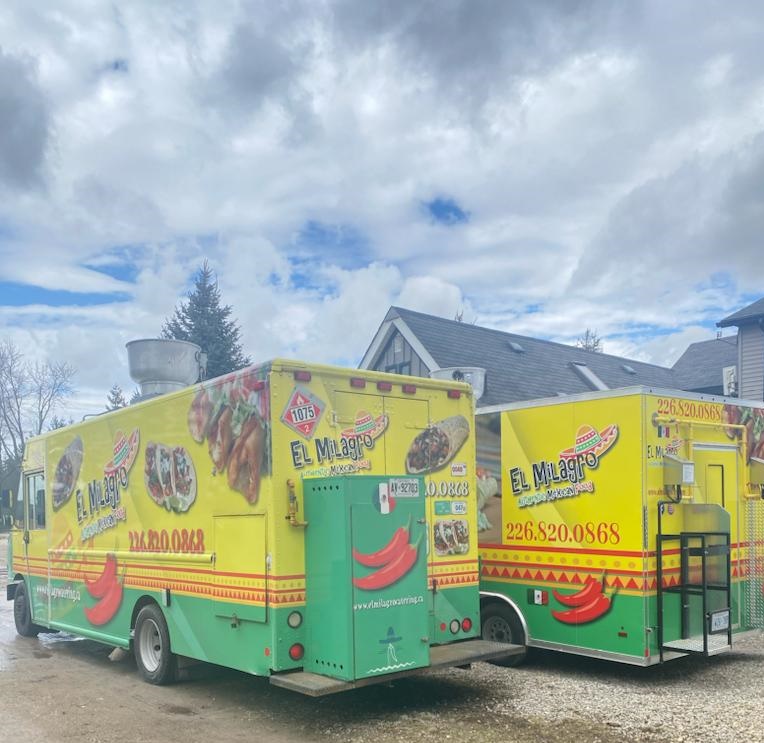 El Milagro (The Miracle) Because when there was no hope left, An extraordinary event in our lives helped us to believe that our dreams can come true. Mexican born and raised our lives have always revolved around food. Be it for special events or just our regular Sunday dinners even just our everyday meals; food has always been the center of attention. Not much has changed since leaving our beloved Mexico.
We have two large Food Trucks, one located in Arthur and the other available for all kinds of events.
The next time you have a gathering and want to dedicate yourself completely to your guests, let us do the hard work!
El Milagro Food Truck is ready to be part of your wedding, birthday and all kinds of corporate event!
The best Mexican food awaits you, come and taste our exquisite dishes!!
3 tacos p/order (CF Corn tortilla)
Marinated pork, pineapple, cilantro, onion + lime on side.
Mexican chorizo, melted cheese, cilantro, onion + lime on side.
Slow cooked Mexican marinated top sirloin, melted cheese, cilantro, onion + lime on side.
Battered haddock fish, housemade colelaw, chipotle aioli, sour cream + black sesame seeds.
Bonni Titgemeyer
2023-05-21
Lovely in a food truck by the side of the road way.
Cameron and Sonya Ogilvie
2022-10-19
We had a fantastic time with El Milagro catering our 10th Anniversary Party! All our guests raved about the food quality, and the staff were very flexible with our needs. Highly recommend!
Michael Griffin
2022-10-17
Great Mexican fare at the side of the road! What everyone needs: Loco Burrito was amazing. Generous portions and flavorful.
Heather Cressman
2022-09-22
Last Saturday (Sept. 17, 2022) the El Milagro Food Truck provided the dinner at our daughter's wedding...and the whole process was smooth and drama free! The pre-planning & execution were professional, with all questions answered promptly & fully (complete with photos, when necessary!!!). The truck arrived on time; the food delicious, hot and substantially portioned. Staff on site were responsive and courteous, neat & efficient. Couldn't have asked for a better addition to our outdoor, vintage, country wedding!!!
Stumbled upon this food truck by chance and turned into the best snack/early lunch while we figured out the correct address we were headed to. The quesabirria tacos were out of this world good! Ladies working in the truck were super friendly. Made fresh to order. Can't wait to go back and try the flautas and get some more tacos.
Food is great!!!
Nathan Azzopardi
2022-08-18
Super fast service, and food was great. More expensive than your average food truck, but the quality makes you feel like you underpaid! Quesabirria tacos for the win
Micheline Little
2022-08-11
Today we celebrated our staff with this delicious food truck! It was fast and fresh!...oh ya, and FRIENDLY!